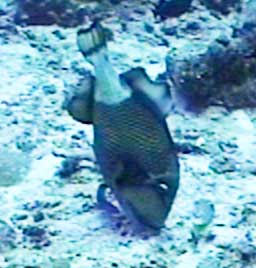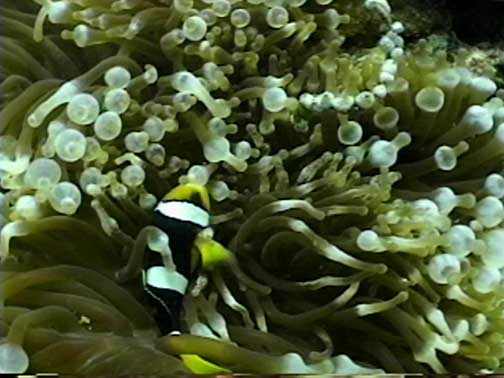 The titan triggerfish appeared on most dives, luckily still building a nest. The dive master told us that in about two weeks the titan would be defending the nest, which means divers would have to stay far away because this large fish becomes very aggressive and is quite persistent once it sets its sights on you. Clown fish made their home with two kinds of sea anemone. There was the typical one and another with little bulbs at the end. This is called a bubble anemone.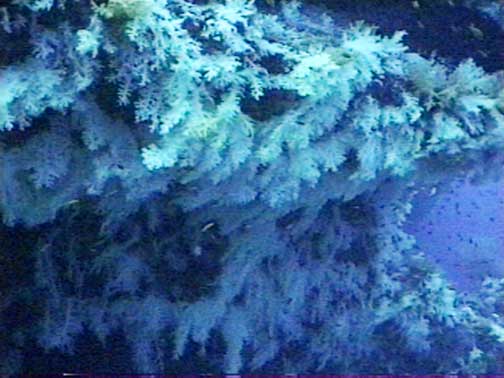 The corals and sponges on some dives were rich with many colors. Teddy bear coral looked like lace draped around undercuts in the coral. Another kind of coral looked like little buds of cauliflower all over the reef in pastel blue and pink colors.

One special dive was called Banana Reef. We were told the current could push us down to 140 feet and rocket us back up to 40 feet and all this on 32% nitrox, so be prepared. I went in frightened, more so than on a dive to the Andrea Doria. The current we encountered was not as severe, though. I clipped my camera to my D ring, put one hand on my inflator and the other on my lower emergency exhaust valve and rode the current. I only went down as far as 120 feet and it was not too swift. The ride up was even less gradual and not really that far. Another pretty dive.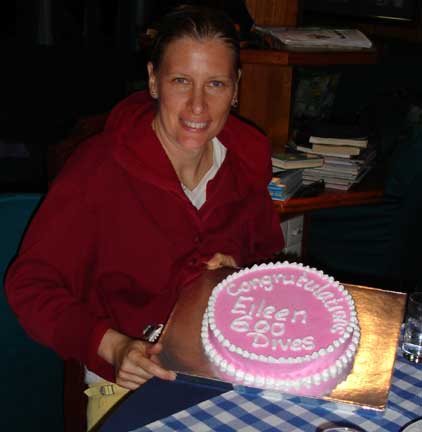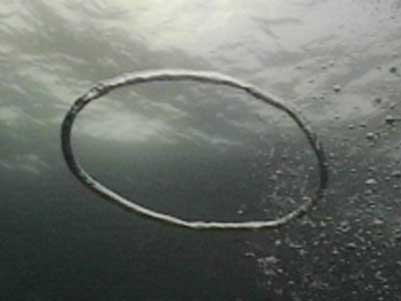 The dive master demonstrated his ability to blow bubbles.

One evening, the crew loaded us into a tiny boat and we motored in the dark ( without a flashlight) to an island where we found a table and benches dug into the sand with our dinner set out ready to eat. The air was thick with the scent of the flowers growing near where we sat, which was part of the thick, lush vegetation growing on the island. After dinner, we walked on the beach past hermit crabs and little crabs scurried sideways out of our way. We came across a moray eel near the waters edge. When we came near, he slithered like a snake back into the water and swam off. Another evening, a cake was baked in my honor for having made my 600th dive that day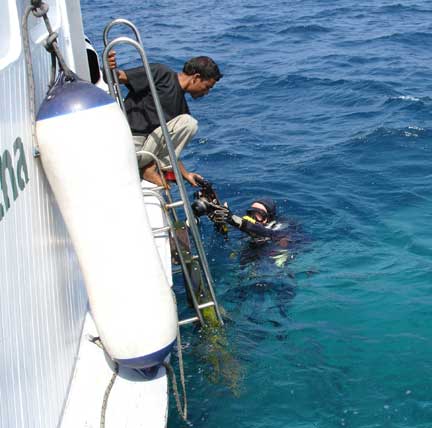 The service on the Manthiri was amazing. So much was done for us. Every time I reached behind to zip my wetsuit, a crew member was there to zip if for me. The crew changed our equipment to fresh tanks between dives, turned on our air and held the shoulder straps so it was easier to climb in to the gear. They loaded all the cameras before and after each dive and rinsed our cameras and wetsuits and even turned them to the right side and hung them out to dry after the dives! Fresh coconut, dry towels and a hot shower were available after each dive. They offered to do our laundry for us and those who availed themselves of this service were returned ironed T shirts. At the end of the trip, the crew washed all of our gear, set it out on the top deck to dry and brought it down for us to pack. Crew to diver ratio was 3 crew/ 5 divers or 4 crew/ 5 divers on most dives. The food served on the boat was delicious. I ate lots of tuna fish curry and real tomatoes.
At the end of our trip the flight schedule forced us to book two nights at another hotel. A speed boat brought us to a small island only 25 minutes from the Male airport to a resort called Bandos. We probably had the worst room in the place and for an unknown reason (they probably wanted to keep us out of our rooms as much as possible), they upgraded us to include all of our meals. After four dives a day and the eat, sleep, dive schedule, it was difficult to slow the pace to resort hotel life. We dived with the hotelís operation and I can not express the disappointment after such a great dive vacation. The first dive we encountered a rip roaring rush past a cut in the reef with lots of fish and that lasted about 30 seconds. The rest of the dive was sparse which was ok because the standard tank is only 10 liters (it looked like a 72 cu ft tank). Not an inexpensive dive but a substandard amount of air. The next dive was even more fun. We arrived at Old Shark Point, ready to go in the water and the boat overheated. We took off our gear and waited for help to arrive, all the while inhaling smoke from the burning garbage at the nearby Male town garbage dump. Acceptable problem except the dive site was right next door to the Male garbage dump. Of all the pristine dives in the Maldives, we were taken to dive the garbage dump! We waited about an hour, inhaling noxious fumes and watched the flames consume the garbage. After they solved the engine problems by adding water, we began our dive. I actually saw two napoleon wrasse and a spotted eagle ray. I guess they didn't mind the garbage. Towards the end of the dive, a cloud of unknown discharge blasted forth into the water, so we surfaced. Others who went further ahead, surfaced in the thick of the smoke from the dump and had to inhale it until the boat picked them up. Of course, the dive master had an attitude towards us after the first dive when Harry and I surfaced at different times. We chose to do our last dive on our own on the house reef rather than go on a boat dive with a possibility of seeing large mantas again. We enjoyed the leisurely pace and saw many fish including a turtle, some white tip reef sharks, sweet lips, a school of snapper and a school of big eye trevally. The next day we snorkled the same area and except for the sunburn on our backs, had a new found appreciation for snorkeling. I saw a shark run through the middle of the trevally school. A two and one half inch five striped (like a rainbow) wrasse bit and tried to pull at my ring after I wiggled my index finger at it. Maybe he was trying to clean my hand. At night, we could see from the dock a spotted eagle ray flapping on the surface.

Bandos Island Resort has its own decompression chamber. Itís one of three in the Maldives. We stopped there and asked for a tour. They said they treat about sixty patients a year, thatís about one every three days. Only about three are actually from our resort. I guess itís hard to get bent on a 72.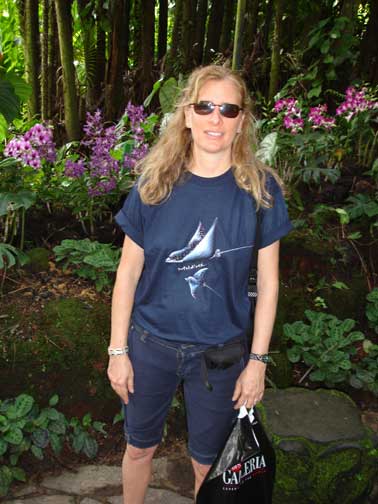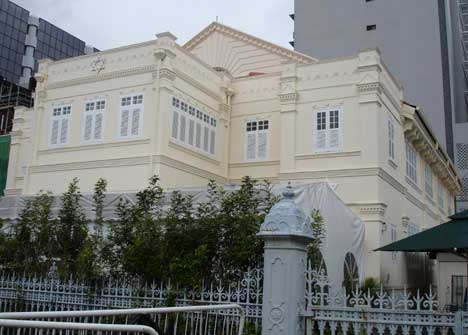 We boarded the plane for an overnight flight back to Singapore and spent our last day of vacation at the botanic gardens where we saw many varieties of orchids, the countryís flower. We saw a synagogue from the late 1800s which was established by merchants from Iraq.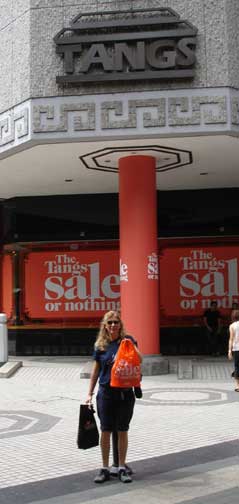 We also returned to Orchard Road for more shopping. I had heard that Singapore is known for its excellent shopping and great prices on duty free merchandise. Iím not sure how true this is. The week before I left, I purchased a single lens reflex digital camera which I priced in the city of Singapore and at the airport. I paid significantly less money in the US for the same camera. Many places in Singapore and the Maldives were selling Sri Lanken blue sapphires. They were beautiful and I purchased a small piece with colored sapphires. I was not able to price it because I had not shopped for sapphires before and I do not carry a jewelers loop for my untrained, uneducated gemologist eyes. Anyway, after a long last day we headed to the hotel to pick up luggage and then it was back to the airport for the very long flight home.
Maldivian Sunset