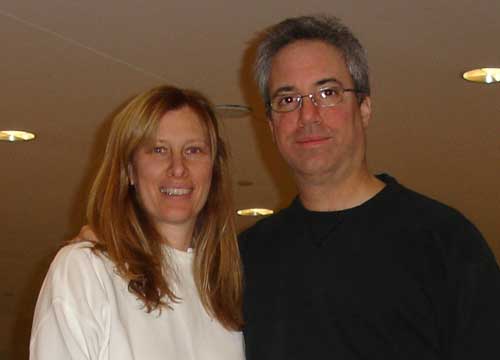 My trip to the Maldives began 45 minutes ago when the plane bound for an overnight stay in Singapore with a short stop in Frankfurt, Germany departed from New York. I never write reviews of my dive trips, just always log my dives, but I decided that since someone elseís review sold me on this trip I should give something back and write a review to help others plan their trips. Besides, my website could always use some new content.

The picture of Hugh and me was taken right before I went through the gate.

What is so great about a long airplane ride? I think this one is 21 hours, if I can figure it all out since today is Tuesday and I arrive on Thursday in Singapore with a time change of plus 13 hours. Anyway, whatís great about a long airplane ride is forced relaxation. Only 50 minutes have passed now and Iím starting to forget about business problems. I donít know what to do first. Iíve read half of todayís New York Times, am listening to my new IPOD and watching airline supplied television, That '70s Show without sound and writing this. Singapore Airlines has given out warm hand towels, free newspapers, orange juice, nuts and dinner, still only 50 minutes into the flight. Good for me since I was stuck with rotten airport food for dinner and did not eat much. The usual airline food is not so bad on this airline. I ordered Asian vegetarian cuisine.

We had a one hour stopover in Frankfurt. There I learned that Villeroy and Bach do not only make my Momís beautiful set of designer dishes, but also produce the vanilla white porcelain toilet bowl in the airport bathroom.

Back on board, todayís newspaper is handed out and inside I read an article entitled ďSingapore Arrests MilitantĒ. It seems that this guy, an Islamic militant leader who had been plotting to crash a plane into Singaporeís airport, was arrested. Now this sounds familiar. Ouch, that would hurt. I hope itís not my plane. I read further. Itís an old plot. Relief.

Forced relaxation is now turning into boredom and I think I have nine hours to go. There must be 30 television shows and 60 movies to choose from and Iím not interested in any of them. Iíve already gone through two years of old dive magazines and Iím now listening to two days of music on my IPOD and watching How to Lose a Guy in 10 Days. Now this looks like a painful movie, even without the sound but I want to see the scenes of my home which I know are in there but I have not yet seen. They actually paid me money to use the front door and roof. I have three kinds of television shows on the IPOD but that will deplete the battery in two hours. Audio use only will give me about five or six hours of power I think. If I need a charge, Iíll have to sit in the airplane bathroom where there is an outlet. If I do not edit out the above before I post this, you can click here to fast forward to Singapore, Maldives or "The Diving".

So now Iím in a time warp. They just turned out the lights. We left at 9 pm. The sun rose at 2 am and now it's only 10 am. Iíve seen the sun rise and set in only 8 hours. Itís almost completely dark outside again. Iíve only slept about 3 hours. If I sleep 3 more hours then Iíll have had a full nights sleep for the two nights.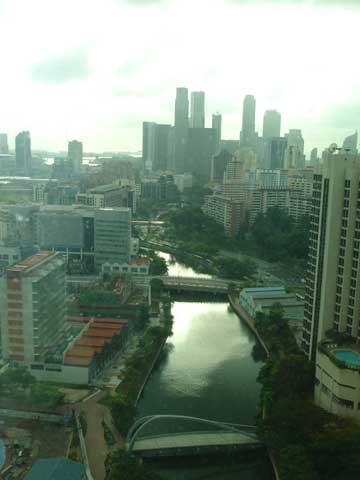 After the flight arrived in Singapore, I picked up my luggage which I found immediately on the conveyor belt, and breezed through customs to the very nice Grand Copthorne Waterfront Hotel. On the way, I saw an electronic sign on the highway which alerted the driver to a traffic jam ahead with the message ďmassive jam up aheadĒ. I wonder what is their definition of massive. Jam ups are so informal I never saw the jam up because it was further ahead.

The first day was spent upon arrival touring the city of Singapore. One of the first things I saw was a local walk to the curb with the sole purpose of spitting. Now is that supposed to be against the law? Arenít the authorities going to cane him if they catch him? Later I saw another man spit into the corner trash can. Maybe thatís allowed. And as for jaywalking, we saw many locals doing that and we did too, but we did not spit or chew gum.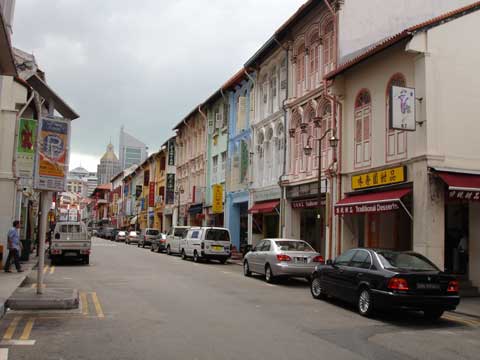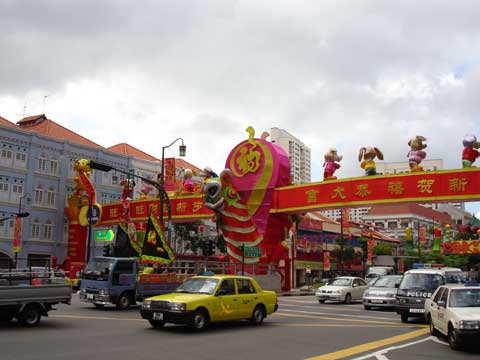 We started in the Chinatown section which was still full of colorful decorations for the Chinese New Year celebration. It looked much like NYC Chinatown with herbs and dead chickens hanging in the windows.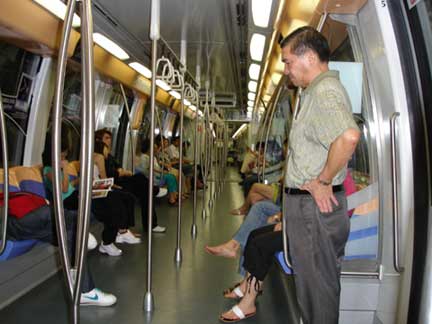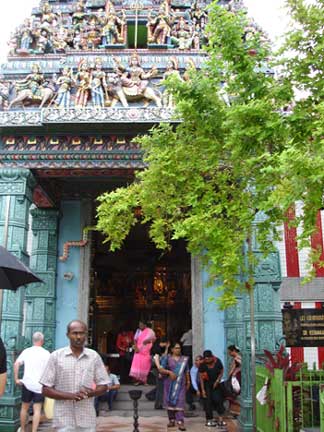 Then we took the subway to the Little India section of town where we found a large market with fruits, meats, fish and other food stalls. We tasted mangosteens which were delicious. We saw a Hindu temple with its ornate roof. By the way, the subway in Singapore is just about as good as the metro in DC. Itís clean, efficient and looks great. Our next visit was to the shopping district at Orchard Road. We looked around a few stores and found some of Harryís favorite fruit called durian. Durian is the only fruit I can think of that smells bad, and that is kind, because it really smells foul. Actually, durian tastes great and has a gooey texture. Our next stop was the bar at the famous Raffles hotel where we sipped Singapore Slings, the drink that made Singapore famous.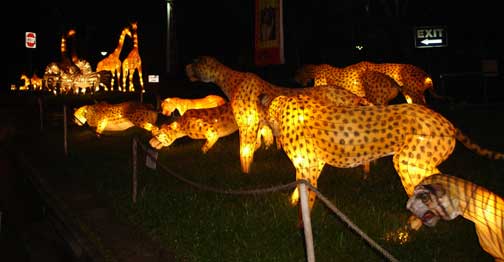 By now Iím quite tired but I must continue so we were off to Sentosa Island where we took a cable car, and visited the aquarium. The cargo ships in the busy harbor can be seen from the cable car. Afterwards, we visited the zoo for the night safari where we rode a tram to view the nocturnal animals in their native habitat at night.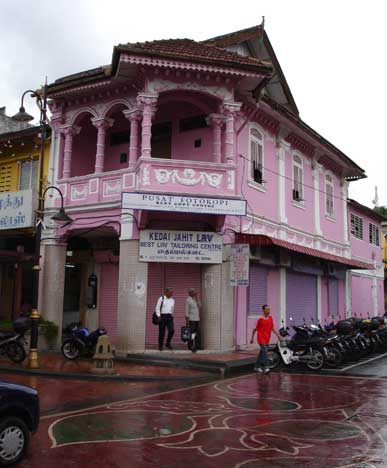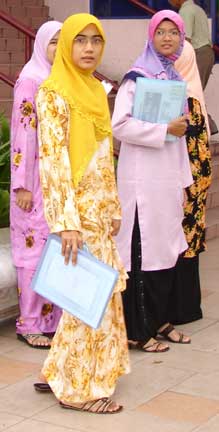 The next day we spent in Malaysia, a 30 minute taxi ride from our hotel, to the city of Johor which is about five hours by car from Kuala Lumpur. Johor is a city with a mix of newer large buildings and small old buildings with narrow streets. There were many bazaar type stores and food stalls. There were more women with muslim head coverings than in Singapore. We saw The Royal Abu Bakar Museum and Grand Palace which was originally the home of Sultan Abu Baker 100 years ago. It is now a museum and was closed when we were there because it was Friday, the Muslim sabbath. We also saw The Masjid Sultan Abu Bakar Mosque, cemetery where royalty are buried and a Hindu temple.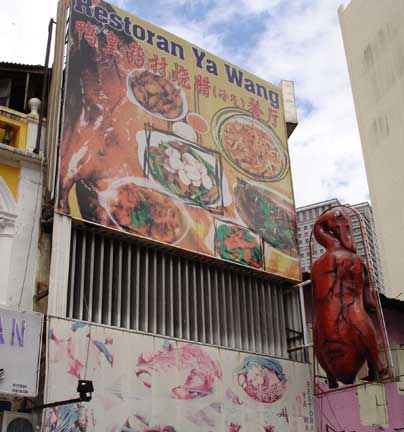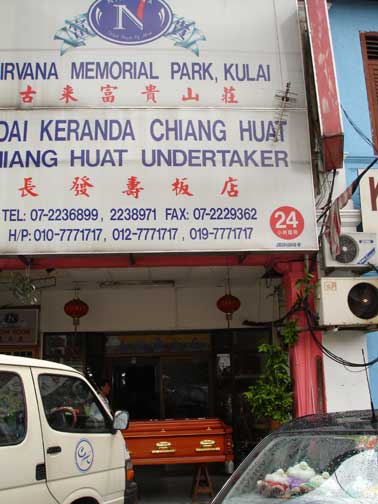 We saw a typical Chinatown duck hanging on a sign, although this duck was a bit larger than the real thing. Also, the funeral home advertised its wares (a coffin) on the sidewalk. We went through a neighborhood of ramshackle houses where we saw chickens going through a pile of garbage. We heard the muslim call to worship on Friday at noon. Then we were back to Singapore and to the airport for our scuba trip to the Maldives.

We spent two hours at the Singapore airport shopping duty free, eating sushi, and emailing at the free internet terminals. This airport is full of amenities and also offers a gym, swimming pool, Jacuzzi and free movie. And now on the airplane, I am writing this listening to my IPOD. Aah, forced relaxation again.