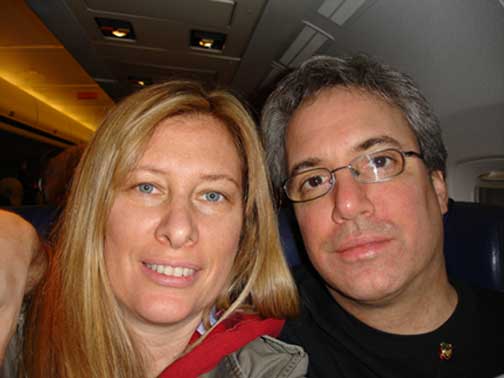 We left for the airport at 11 AM for a 3:10 PM flight. Traffic was very light and the drive to LaGuardia Airport took twenty minutes. We were part of the winter holiday mad getaway and had expected a worse traffic situation. The television and radio mentioned delays at all airports and fog at Chicago's airport, our layover from which we departed before we reached India. The six of us had some heavy pieces of luggage, for which we needed a sky cap. The sky cap took us into the busy terminal to the eticket machines where someone immediately came to assist us with our tickets. He could not get the machine to accept our information, and so he brought us to the check-in counter, cutting off seventy-five people who were waiting in line for ticket agents. After an easy check-in, the agent said that we should have originally gone to the full service line because we were flying international, and the eticket machine required the input of passport and visa numbers, a cumbersome but doable process. We thanked him for expediting our check-in, then it was on to the line for the security check, which was not too long. Some of us removed our shoes and belts, and dumped our bottles of water. We sat and waited for our flight, which was delayed for one hour. Apparently the cleaning crew showed up too late to prepare the plane for our flight.

The initial group of six consisted of me, husband Hugh, his mom Horty, his sister Donna, her boyfriend Robert, and nephew Benjamin. Two hours later we were met by cousin Shelley. Incidently, Shelley navigated the eticket machine menus on her own. One hour before the planned departure of our flight to India, we arrived in Chicago where we were supposed to meet Hugh's sister, Nita, and her children Carly, Alex and David, as well as, cousin Robbie and his wife Sabine. None of them had arrived. Nita's itinerary was to fly from Sacramento, to Dallas, and then onto Chicago, but their flight was to arrive one and a half hours late. A miss. Robbie was scheduled to arrive in Chicago five minutes before departure but he managed to make our flight. His luggage was a day late. Nita and the children spent the night in Chicago and took the same flight the next day. We were sad that a few relatives missed the start of our family trip and for the fun that they were missing. The rest of our group included cousin Suzy, who was to fly in from Thailand where she had been spending the past two months, and Uncle Eddie, who was already in India.

Here is a little background about our trip. Last year, while at Horty's apartment, a discussion took place on how everyone should go away together in honor of Horty's big birthday. Someone said, "Let's go to Cancun." Uncle Eddie replied, "No, let's all go to India." Thank you Uncle Eddie. We are all going to India.

Back to our flight. Flying on an airplane with Hugh...... We woke up, the sun was up and Hugh asked the flight attendant, "What is the real time?" He replied, "Whatever you want it to be." Who really knew? It was 4:30 AM in New York, 3:30 AM in Chicago, 10:30 AM in Oslo (we were currently over Oslo) and 3:00 PM in India. I don't think we ever figured out the answer.

After another delay, this time due to fog, we finally arrived in Delhi. When we disembarked, the first thing we noticed was the very strong smell of burning garbage in the air. We were informed that one of the contributing causes of this odor was that many people spend the night outside and make campfires. On the way from the airport to the hotel we saw many homeless people sitting around fires for warmth.

At the airport, we were met by our tour guide, Sushil. Our transportation for the week was a small tour bus. The first stop was our hotel, the Trident Hilton, an amazing looking palace with reflecting pools. Since it was late some of us gathered in Horty's room and ordered room service for dinner and, of course, discussed politics, very loudly.

Upon arrival at the party, we were greeted by five cows walking down the street unsupervised. Cows can be seen unattended all over India, even in the big cities because the Hindus consider the cow to be holy.
Our next stop on the tour of the city of Delhi, was the Gandhi Museum dedicated to the life of Mahatma Gandhi, and later to his cremation site, Raj Ghat.