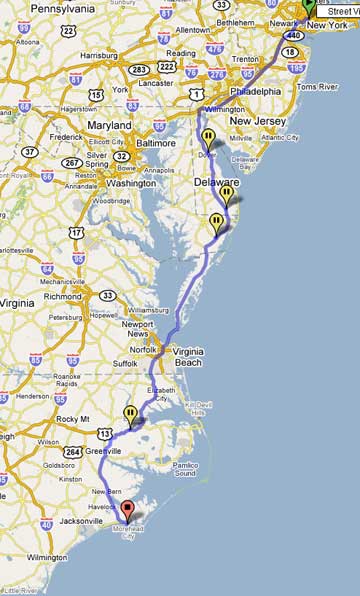 Almost every year for the past seven, I have driven to Atlantic Beach, North Carolina to scuba dive. A small group of friends rent a beach house for a week and each day board the Atlantis IV to dive a variety of shipwrecks. What makes North Carolina such a great scuba diving destination is the warm, clear blue tropical water, a wide variety of fish and, of course, historical shipwrecks. It was the last week of June at 7AM on my birthday (a great way to celebrate - spend 12 hours in a car). It was time to depart on the year's North Carolina trip and we loaded my car with gear and tanks. This year Harry and I drove together. We set up maps, ez-pass, radar detector, cell phones and cds and departed on time.
Our first stop was a quick detour to Assateague Island, a barrier island located on the Maryland shore where I used to spend vacation years ago. We were met in the parking lot by this resident. Assateague Island is known for its wild ponies that roam free.
We continued the drive along the shore roads of Delaware, Maryland, Virginia and met Dennis and Gary for lunch in Cape Charles, Virginia. Cape Charles is a cute revitalized town with good food in real restaurants. After we passed one fish fry joint after another, along a road full of signs for cheap cigarettes, fireworks and country hams, sold by people who have too many of the same dna markers, it was a welcome change.

After lunch, we crossed the Chesapeake Bay Bridge, a 20 mile long span with beautiful views that led us into Virginia Beach. Sometimes I stop in Virginia Beach to meet Donna (with whom I attended high school) for lunch but not today.
We continued our journey until we reached the Great Dismal Swamp and stopped to look at the swamp canal. Along this section of road we saw signs marking a bear crossing.

Further south we drove through Hertford, the hometown of baseball's Catfish Hunter.

A parallel road we sometimes drive goes through the town of Whaleyville in Virginia. Whaleyville is a run down little town with a few old buildings no longer in use, one convenience store/gas station with a cornfield. The cornfield is where toothless country boys can be found sitting in chairs watching time as it goes by. The last 2 years we noticed that Whaleyville now has new old fashioned lampposts along the road and a sign for historic Whaleyville.

In North Carolina, we encountered billboards that inform the driver that a fetus has a beating heart. Another example of unnecessary information.

We passed many churches with colorful names. We started passing these churches in Delaware but the names became more unique as we reached Virginia and North Carolina. My favorite is Pillar of Fire Center of Hope. Here is a list we've compiled over the years.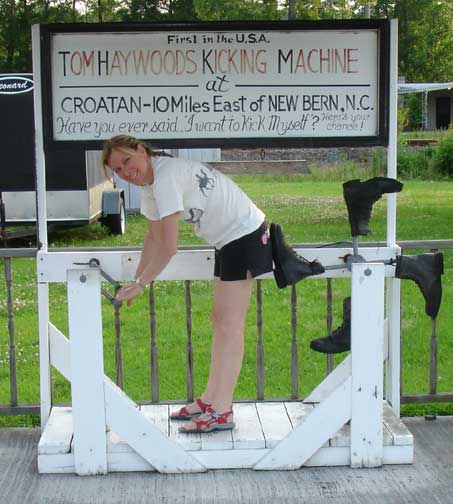 We continued driving the back roads of North Carolina and just before reaching New Bern we found our new favorite farm stand. Road signs advertise maters, taters, cukes, zooks and lopes.

We crossed the Neuse River in New Bern and soon reached the now famous self kicking machine. If there ever was anything you wanted to kick yourself about and you couldn't reach your posterior, just south of New Bern on route 70 you can find a hand crank and 4 boots on a wheel spaced far enough apart to kick yourself square in the butt.
We finally reached Morehead City and stopped for groceries at our favorite supermarket. We may not have store discount cards for New York stores but we all have them for the North Carolina supermarkets. We continued on to cross the causeway into Atlantic Beach. We reached the beach house at 8:30 pm, in time to meet up with Dennis, the trip's organizer, and Gary for a barbecue dinner.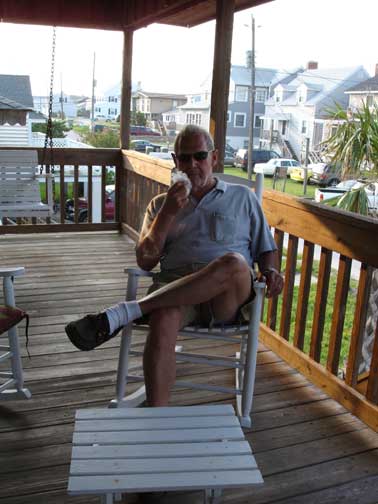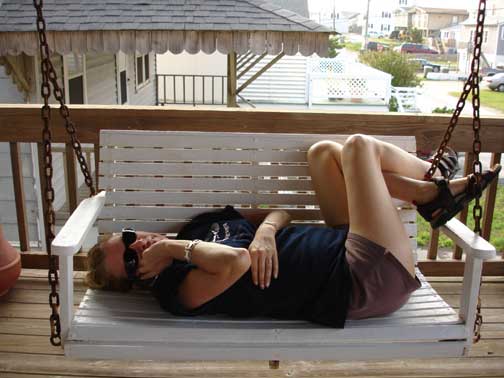 Our little beach house called the Sandpiper, is located in Atlantic Beach, North Carolina, just across a small street from the beach. In a good dive year, we never go on to the beach but it is there. The house has 6 bedrooms, one for each of us and a nice porch with porch swing and rocking chairs.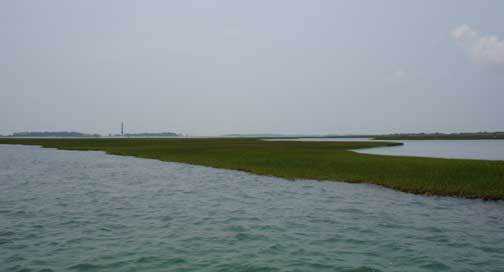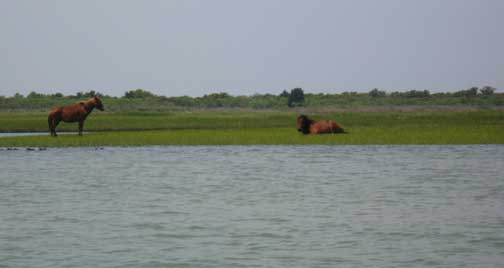 Sunday was a non-diving day so this year we went to see the Cape Lookout lighthouse. Along the way we passed the Shackleford Banks and saw the wild horses that live there.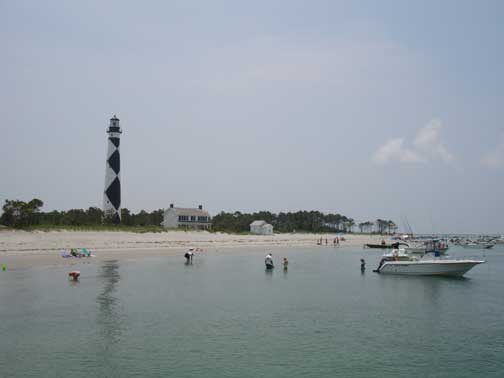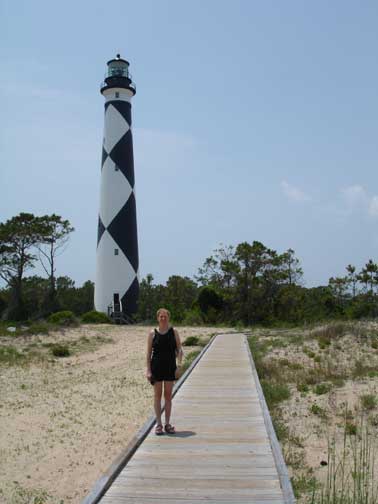 The Cape Lookout lighthouse was built in the 19th century. The lighthouse keeper lived in the house that still stands next to it. The light is now controlled automatically. The lighthouse is painted in a black and white checker pattern to help with daytime navigation. The lighthouse pattern indicates compass direction. Facing the black diamond means the boat is heading north or south while facing the white diamond means the boat is heading east or west.